Prince Andrew abseils from 87th floor of Shard
Duke of York says 'never again' after 239-metre descent of western Europe's tallest building for charity
Prince Andrew undertook the stunt to raise money for charity. The Prince started his abseil on the 87th floor and is made his way down to the 20th.
The 52-year-old royal was one of around 40 people who lowered themselves down Europe's tallest building for educational charity The Outward Bound Trust and the Royal Marines Charitable Trust Fund.
The Shard is the 59th tallest building in the world, and its viewing galleries will open to the public in February next year. Perhaps, he could be forgiven for thinking while standing at an open window on the 87th floor of the Shard in London, this was not one of his better ideas.
But, as a misty dawn broke over the capital on Monday, the Duke of York took his courage – and a strong nylon rope – in his hands, stepped off the edge, and honoured a pledge to abseil down the slippery glass-sheathed 310-metre (1,016ft) spire that is western Europe's tallest building. He was one of 40 volunteers, including Ffion Hague, wife of the foreign secretary, to undertake the challenge hoping to raise more than £1m for the Outward Bound Trust and the Royal Marines Charitable Trust.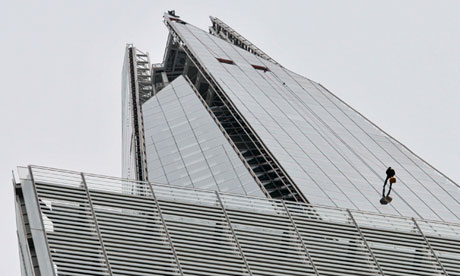 It must have seemed genius when Prince Andrew, chairman of the educational charity trust, first mooted the challenge to other trustees during a meeting in the comfort of his Buckingham Palace office last year. But now it was 7am and the 52-year-old royal, whose view from that height has more usually been from first class, had to deliver. Way below, 239 metres to be precise, the media assembled on the Shard's 20th floor terrace, craning necks to watch the tiny dark dot as it emerged above. "He's done it. He's stepped off," said David Hopkins, university professor, Outward Bound trustee and international mountain guide waiting at the bottom to unhook the abseilers. "That's the hard bit. Can you imagine how hyped he must be? He must be so in the zone."
As the royal posterior edged closer and closer, another little black dot appeared above it. Ffion Hague, the trust's deputy chairman, in her own words "not a sporty type", was beginning her descent. "God, she's brave," muttered a TV producer as the camera zoomed in and a media helicopter hovered alongside. And so it went throughout the day. John Caudwell, 59, possessed of a mobile phone fortune and a fear of heights, donned a Spider-Man outfit. Sir Chris Bonington, 78, conquerer of Everest and the Eiger, strolled it. In all some 20 were abseiling from the 87th floor to the 20th, while others were completing different stages. Some half-hour after setting off the duke made it to the 20th floor, his shoes squeaking audibly on the glass. "I'm not even going to say that was a piece of cake," he said. "I will never do it again." So had he been scared at all? "I was scared at the top," he admitted, saying the morning mist had made the windows wet with condensation. "I slipped the whole way down the first section."What did his parachuting mother think of it all? She had been "entirely happy" when he last spoke to her about it at Balmoral, he said. "It's a long way down. But it's a fantastic view of London," added the former Royal Navy helicopter pilot, concluding: "Yes, I feel very good. I think I'll go and have some breakfast now." The abseils were completed in three stages – a 32-metre descent, followed by a changeover of rope for the next 175 metres, and a second rope change for the final 32 metres. It could not be completed in one single abseil because a 300-metre rope was too heavy to carry. Each abseiler had two ropes, one to grip and another secured to their safety harness. Organisers insisted it was safe, with ropes attached to the superstructure of the building and the operation overseen by the Royal Marines. All of which did little to calm nerves. "It was exhilarating and terrifying in about equal measure," said Hague, admitting "my comfort zone is so far away just now I can't even see it". She said: "The thing you notice first is the silence. The sounds of the city are very distant. It's just you, a breath of wind, and it's very disconcerting to see the birds flying beneath you. Then, about half way down, the wind kicks in and you can hear the platform announcements from London Bridge station. That's very surreal."The hardest bit was "coming off the edge, no doubt"."It's a very, very scary thing, but once I relaxed enough to control the rope properly, have a smooth glide, then I could have a look around. It was fabulous. I saw the Gherkin like a little spot in the far distance." Caudwell's descent was briefly interruped about 20 metres from the end for his family to take photographs. "Stop there, stop there," shouted his son Jacobi, eight, leaving him hanging around the 25th floor mark. "I just want to get down," his father shouted back. "That was broadly terrifying, but sort of terrifying, fantasy fun," Caudwell said on completion. But it had done little for his vertigo. "I think I'm even more scared. I think it was kill or cure and I don't think the cure's worked," he laughed. He was so nervous beforehand, he blocked it from his mind until the last possible moment. "As we were driving here in the car, my lad said: 'Oh there it is, daddy. Right up there.' And I said: 'I don't want to know.'
"It's not till you get the gear on, it starts dawning on you what you've got to do."
No such nerves for Bonington. "It is a whole sight easier abseiling down glass than it is rock and snow with the wind whistling around your ears." he said.
Details of how to sponsor participants can be found at www.descentoftheshard.com.
The Descent of The Shard
Before this extraordinary building opens to the public in early 2013, a small group of people are being given the unique opportunity to abseil from the pinnacle of The Shard in aid of The Outward Bound Trust and the Royal Marines Charitable Trust Fund.
For further information please visit The Descent of the Shard website.
Outward Bound Generations
Since 1941, 1 million people have participated on an Outward Bound course in the UK. We want to hear your memories and experiences of Outward Bound so we can share it with future generations and reconnect our alumni with each other. Whether it be a long-lasting memory, or a quick anecdote, we would love to hear from you - simply click on the link below:
The Outward Bound Trust is an
educational charity
and the UK's leading provider of bursary-assisted
outdoor learning
. We aim to help young people realise their potential through learning in the wild. We create a supportive and challenging environment in which young people can learn about themselves and see clearly, perhaps for the first time, what they might truly be capable of achieving in life.
Our Social Impact
In our second Social Impact Report, we present the results of a continued effort to measure the difference our courses really make to young people. The purpose is not to paint a glossy picture of one life-changing experience after another, but to give an open and honest account of how young people benefit from our courses.
For more information, access our Social Impact Report website.
Our History
The Outward Bound Trust was founded in 1941 by Lawrence Holt, Chairman of the Blue Funnel Shipping Line, and the renowned educationalist Kurt Hahn. It was intended as a survival school for merchant seamen who might find themselves shipwrecked and forced to cope with all manner of situations and conditions in any environment in the world.
After the war, it was felt by many that the success of the school was in more than just teaching survival skills. The Outward Bound programme could also, in peacetime, be a valuable means of making individuals more independent, self aware and able to cope for themselves. The lessons learned have, from the start, been applied to teamwork and leadership.
Listen below to some short clips of Kurt Hahn speaking about the philosophies behind The Outward Bound Trust.
Outward Bound Generations
Over a million people have now benefited from the life lessons and survival skills of The Outward Bound Trust and the lessons learned are as valuable and relevant today as they where all those years ago. Aware of the importance of such memories and skills gained by participants since 1941, The Trust has launched 'Outward Bound Generations'.
Click here
to learn more and to add your Outward Bound story.