http://www.stjude.org/stjude/v/index.jsp?vgnextoid=f87d4c2a71fca210VgnVCM1000001e0215acRCRD
Click on the link above to see the St Jude main page!
Hi, Jean Robb here. I can't imagine being told my child has a catastrophic disease. As a parent your first thought is to make things better, but how? With support of St Jude you begin to feel hope. For many kids they do get better. For some kids it gives them the gift time and better quality of life before giving up the fight.
Here is a poem I found that talks about the process of kids fighting cancer. To see how you can help St Jude look at the information below.
Walking On The Edge Of Life
The world keeps moving forward as time stands still for me,
I am the kid with Cancer, locked in battle to be free.
For all us kids on chemo our lives are put on hold,
As we fight to stay alive, our chances good were told.
Our attitude is courage we live this life each day,
Just waiting for tomorrow, praying cancer goes away.
Walking on the edge of life We're never looking down,
United here in front of you, until a cure is found.
©2007 By Lorna Mahan & Sinjin Andrukates
St. Jude Mission Statement
Mission
The mission of St. Jude Children's Research Hospital is to advance cures, and means of prevention, for pediatric catastrophic diseases through research and treatment. Consistent with the vision of our founder Danny Thomas, no child is denied treatment based on race, religion or a family's ability to pay.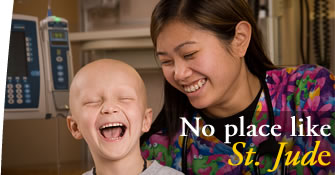 No Place Like St. Jude
We are a beacon of light in a parent's darkest night.
There's no place like St. Jude for...
Community Outreach
Cutting Edge Research
Supporting Pediatric Care
Treatment of Rare Catastrophic Diseases
Treatment of Pediatric Cancer
View our interactive
No Place Like St. Jude multimedia presentation
.
Research
The diverse research at St. Jude ranges from discovery-focused and hypothesis-testing laboratory studies to clinical trials of specific medications, treatment regimens and other therapeutic interventions. We continually seek to translate knowledge acquired through basic research into novel approaches for clinical diagnosis and treatment. At the same time, our clinical and laboratory-based investigators use the challenges encountered in the clinic to focus the efforts of our research.
research fellows at St. Jude
Eligibility Requirements
Note: If you are a referring physician, please see our Patient Acceptance Policy.
Eligibility requirements for brain tumor patients
Patient Acceptance
Acceptance is based on the patient's eligibility for an ongoing treatment study, regardless of a patient's race, sex, ethnicity, religion, nationality or ability to pay. Parents who wish to have their child treated at St. Jude should have the child's physician contact us at 1-866-2STJUDE (1-866-278-5833) or by e-mail referralinfo@stjude.org.
Since the hospital is a research center, children accepted are enrolled in a specific study or "protocol." Information gathered from these studies is used in developing better treatments. Protocol-based therapy has led to improved cure rates for potentially fatal pediatric diseases.
Requirements
St. Jude welcomes treating physician referrals of children and adolescents with newly diagnosed untreated or suspected cancer; HIV infections; or certain hematologic, immunologic, or genetic diseases. Patients are accepted based on the eligibility to enroll in an open St. Jude Children's Research Hospital clinical research protocol. In addition, previously treated patients who have received treatment elsewhere may be accepted on an individual case basis when there is a potential for protocol eligibility on ongoing studies, relapse studies, bone marrow transplantation protocols or Phase I-II studies. Patients with genetic disorders, hematologic or immunologic diseases or HIV infection may be accepted anytime in their disease history based on protocol eligibility or potential to contribute to research projects.
If your doctor would like to discuss a difficult diagnosis or medical management of your child's diagnosis, we would be happy to speak to your physician about questions he/she may have. Or, your physician may choose to send us a detailed medical history, copies of relevant diagnostic imaging evaluations, and pathology/histological material in order that our multidisciplinary groups can discuss your child's case and offer recommendations.
After your child's initial therapy has been completed at St. Jude, patient care is typically managed in close collaboration with your child's private physician. St. Jude experts in hematology, oncology, bone marrow transplantation, immunology, genetic diseases and infectious diseases are available at all times for consultation with your doctor regarding possible side effects of therapy, signs of recurring disease, or other questions related to patient management on mutual patients on St. Jude clinical trials.
Close contact with your child's private physician is important to us and necessary for your child's safety. Your child's doctor can call us at any time to speak to your child's St. Jude attending physician.
Financial Responsibility
All patients accepted for treatment at St. Jude are treated without regard to the family's ability to pay. St. Jude covers all costs of treatment at St. Jude beyond those reimbursed by third-party insurers, and total costs at St. Jude when no insurance is available. St. Jude also provides assistance with transportation costs and local living expenses during treatments (see Travel and Where to Stay in Related Topics).
Note: Final acceptance occurs when the patient is deemed eligible and is enrolled on a protocol.
For St. Jude Families
This section offers answers to the questions that St. Jude patient families ask most. If your child has just been diagnosed and you are planning your first trip to St. Jude, this section will help you prepare for your trip. It can also help you know what to expect when you arrive at St. Jude.
Why support St. Jude?
The support of caring people like you helps ensure that St. Jude Children's Research Hospital will continue its lifesaving mission of finding cures and saving children. St. Jude founder Danny Thomas believed that "no child should die in the dawn of life," and your donations help bring us closer to the day when every precious life can be saved.
How do your donations help?
Thanks to donors, St. Jude families never pay for treatment not covered by insurance, and no child is ever denied treatment because of the family's inability to pay.
Your donations also help St. Jude cover other costs a family typically incurs while their child is being treated at the hospital, including travel, housing and food.
At St. Jude, donor dollars help fuel the groundbreaking research that leads to pioneering care and treatments for childhood cancer and other deadly diseases.
How is St. Jude making a difference for sick children?
Every child saved at St. Jude means children saved around the world—a direct result of cutting-edge research and treatment that set the standard in treating childhood cancers. And our discoveries are shared freely with doctors and scientists all over the world.
St. Jude developed protocols that have helped push overall survival rates for childhood cancers from less than 20 percent, when the hospital opened in 1962, to 80 percent today.
St. Jude is the first and only pediatric cancer center to be designated as a Comprehensive Cancer Center by the National Cancer Institute.
St. Jude has embarked on an unprecedented effort to sequence the pediatric cancer genome and to identify the genetic changes that give rise to some of the world's deadliest childhood cancers. Read more.
How are donations used?
During the past five years, 81 cents of every dollar received has supported the research and treatment at St. Jude Children's Research Hospital.
It costs $1.6 million a day to operate St. Jude, and public donations provide more than 70 percent of our funding.
Donate now
to help St. Jude save the lives of children in communities everywhere.