Click on the link above to see the WWF main page!
Hi Jean Robb here
.
I've worked with big cats for over 15 years. I can't imagine a world without tigers and yet that day could come. Tigers are the largest of all the Asian big cats, at the top the food chain, and are one of the most culturally important and beautiful
animals on this planet. However, they are also among the most vulnerable and threatened species on Earth. For over a million years, the "King of the Jungle" lorded over a territory stretching from eastern Turkey to the Russian Far East,
with its home extending northward to Siberia and southward into Bali. But by the end of the last century, the Bali, Javan and Caspian tigers were extinct. Tragically, the remaining six subspecies risk the same fate as the Javan and Caspian because of illegal wildlife trade, poaching, and conflict with people. If we do not respond to the plight of wild tigers and the needs of the communities that share their home with tigers—most of which is outside protected wildlife areas we will witness the loss of one of the world's most irreplaceable natural wonders of our lifetime.
Facts & Figures
Tigers are found in Bangladesh, Bhutan, Cambodia, China, India, Indonesia (Sumatra), Laos, Malaysia, Myanmar, Nepal, Russia (Far East), Thailand and Vietnam. View map
The 6 living subspecies of tigers are: Amur, Bengal, Indochinese, Malayan, South China and Sumatran.
The Bali, Caspian and Javan tiger subspecies have all become extinct.
Wild tiger numbers have fallen by about 95% over the past 100 years.

Tigers survive in 40% less area than they occupied a decade ago.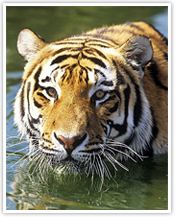 With just one tiger, we protect around 25,000 acres of forest. To save tigers, we need to protect the forest habitats across Asia where they live. By saving these places, we will not only allow tigers to roam freely, but also many other endangered species that live there.
Dear Jean,
From the archipelago of the Galápagos to the forests of Asia, we've accomplished so much at WWF with your steadfast support
. And, as we honor our 50th Anniversary, we take a look now at our work protecting tigers.
Beginning with Operation Tiger in the 1970s, WWF's tiger conservation efforts have significantly evolved in the past four decades of our work. We've found that the way to ensure a future for tigers is to seek solutions in collaboration with governments, local communities and other partners.
Today, we invest in strategies that range from income generation and alternative livelihoods for people who live in tiger habitats, to lobbying at the highest levels to secure wild spaces for this magnificent species and to end tiger trade.
Our goal is to double the number of tigers in the wild by the next Year of the Tiger, 2022
. But we need continued support to meet this goal.
Will you make a monthly donation to WWF today in honor of our 50th anniversary and our efforts to protect endangered species, like tigers, around the world?

As a WWF supporter,
YOU have played a vital leadership role in some of the most important conservation achievements of the last half century. I thank you for all you have done to make this moment possible.to save tigers:
We helped bring the Amur tiger back from the brink of extinction, from 40 individuals in the wild in the 1940s to 500 in the 1980s, thanks to vigorous anti-poaching and other conservation efforts by the Russian government and support from many partners.

We were instrumental in creating a 2.5 million acre area of connected and contiguous tiger habitat in Cambodia, which not only restores precious tiger habitat but also creates a viable area to develop an income-generating ecotourism industry in the region. Tigers have already made a comeback in this newly protected habitat and are now being monitored carefully.

And, just this past year, we saw success at the International Tiger Conservation Forum, where significant new funding was committed by governments for tiger conservation and all 13 countries that still have wild tigers committed to double the population of wild tigers in the next 12 years.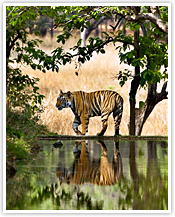 As few as 3,200 tigers
remain in the wild.
But our work doesn't end with these accomplishments
. Our work with tigers--and other threatened species around the world--is ongoing. And, we need your support to help continue our vital efforts.
As we look to the next 50 years, including the critical months ahead, we know that there remains so much we must do to help save tigers and other threatened species. So many species now face urgent threats. And so I ask you to
please take action on this historic occasion by making a generous anniversary donation to WWF
.
We will put your monthly donation to work funding some of the critical, ongoing WWF conservation initiatives that I believe people will be writing about 50 years from now--from the protected waters of the Galápagos to the forests of Asia where tigers still roam free.
Help WWF make history again
. Our work protecting tigers is but one of hundreds examples of our dedication and passion. Together we can protect species from extinction, preserve extraordinary habitats, and leave future generations a world of thriving biodiversity.

Share on Facebook

Share on Twitter
To see all the big cats I work with click on the CARE or In Sync links below!
Click on the link above to see the CARE main page!
Clink on the link above to see the IN Sync main page!